Raw Local Honey and it's benefits
Raw Local Honey has a ton of benefits for you and your family. If you like honey and use it regularly then there is no reason not to source local, raw honey. Buying this honey you support sustainable living and local farms and apiaries like Seven Gables. Above all, you are giving your family numerous benefits over mass-produced, processed honey. Below are some of the benefits that your family can reap from buying natural.
Buying local can boosts these benefits. Local Honey Bees make their honey with pollen from local flowers. This gives honey specific properties that are unique to that area. So when you buy local your body gets benefits specific to your local area!
It Helps With Digestive Issues
There are many natural and alternative medicine practices that include raw honey. It has been used for a long time to treat digestive issues such as Diarrhea and stomach ulcers. Even though modern medicine hasn't explored this research thoroughly it doesn't mean the benefits aren't documented in history. Honey also acts as a powerful prebiotic. Probiotics help nourish the good bacteria that live in your digestive tract. This bacteria is not only good for your digestion but, your overall health.
Here Is A Big Word: Phytonutrient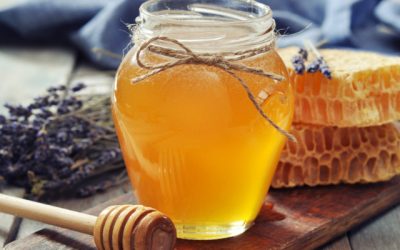 I bet you haven't heard that word before. However, Phytonutrients are awesome little compounds. Firstly, they are found in plants and they help protect them from harm. They are so powerful that they can help protect them from insects. Phytonutrients can also protect the plant from radiation! Now that doesn't help humans much however, this is what it does do for us. Phytonutrients have antioxidant properties. They also have antibacterial and antifungal properties. Lastly, because of these nutrients raw honey has been shown to have immune-boosting properties. Above all, they have helped raw honey to have shown anticancer benefits. When you heavily process honey, you destroy these nutrients.
Natural Free Radical Armor
What are Free Radicals? Free Radicals help contribute to the aging process. They are also the chemicals that appear to help the development of chronic diseases like cancer and heart disease. However, raw honey contains a large collection of Antioxidants. Antioxidants help protect your body from cell damage from free radicals. Moreover, raw honey contains compounds called Polyphenols. Research shows that these compounds may play a role in preventing heart disease. Local Raw Honey contains these compounds sourced from local flowers. Therefore, you receive nutrients from your local area!
Helps When Your Sick!
Local Raw Honey is a great thing for when you're sick. Try a spoonful of honey the next time you have a cold. For instance, raw honey is a great remedy for a soothing a sore throat. Likewise, it acts as a natural cough suppressant. Ever seen a honey-flavored cough lozenge? Even the medicine companies know about it. You can add it to tea because it's a natural sweetener and can help boost the immune response. Above all, it has been researched that natural honey is as effective as dextromethorphan. Instead of taking this common cold medicine try two spoonfuls of honey straight.
Important Notice About Honey Raw or Processed
** Honey should never be given to babies, especially raw honey. Consult your doctor before giving any child honey.
Honey can contain certain bacteria that doesn't agree with certain bodies. If you experience any symptoms after eating honey consult a doctor.