Turned Wood Product Shop
Come back to nature by choosing a turned wood product handmade for your home.
Our turned wood products change trees into something more! With so much deadfall available it was a logical and fun decision to learn to turn wood. We love how you can take a tree that has been downed by nature through disease, storms or just old age and turn it into something unique and functional.
Each log we harvest opens up new inspiration and learning experiences!
Much of our turned wood products start out as farm maintenance. However, those trees' lives are NOT over! Once we make the repairs the wood is harvested and turned literally into something new.
Each piece of wood brings its own story to our turned wood products, making each its own wonderful centerpiece.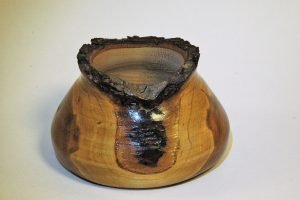 I love seeing how the wood expresses itself as its turned, its alomost like its smiling! Each piece is magical.

-Angela
We have found that old deadfall harvested brings character to out turned wood products as it often has spalting, bug trails, and fungus that make for wonderfully unique pieces.
We not only make bowls, vases, cigar trays but kitchen implements as well. The perfect addition to any kitchen or bar to show your creative style through the beauty of turned wood products. Check out our bottle openers https://sevengablesfarm.net/product/handmade-turned-bottle-opener/ or pizza cuttershttps://sevengablesfarm.net/product/handmade-turned-large-pizza-cutter/ for just a few popular gift ideas.
Showing 1–12 of 18 results